Welcoming New Families
At Saint Thomas More, there is a place for everyone.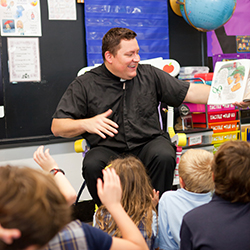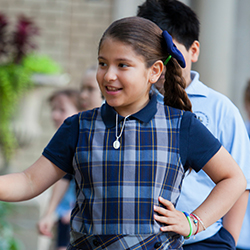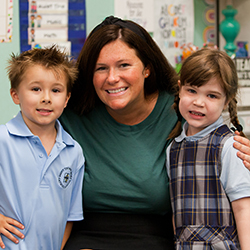 Our community welcomes new families every year and during the school year. We excel at transitioning students, and their families, to our school community. Prospective students spend a day or two shadowing current students. This helps students and parents get a first-hand view of daily life at Saint Thomas More School. In addition to school leadership and staff, ambassador families are available to answer your questions when making your school decision. Once you start school at Saint Thomas More, a mentor family will be assigned to you to help answer the many questions that arise when you start a new school. New families are embraced, and feel immediately connected to and a part of our vibrant community.
Visits & Tours
Prospective families are encouraged to visit Saint Thomas More in order to discover the difference it can make in the life of your child. To schedule a tour or request information contact the school office at 651-224-4836 or e-mail Elizabeth Thimmesh, the Admissions and Advancement Director. Prospective students are also welcome to shadow a student for a day before enrolling.
Registration Process
Students interested in applying for admission at Saint Thomas More should schedule a tour  and meet with our school Principal, Pat Lofton.
Then, complete registration online in FACTS along with a $200 as a non-refundable registration fee. Also, please request that your child's student records (if currently attending another grade school) be sent to St. Thomas More Catholic School, Attention Student Records.

Our registration process is completed online through FACTS.
Click here to get started or copy/paste this web address into your browser: https://st-mn.client.renweb.com/oa/?memberid=17134
Frequently Asked Questions
Do you accept student transfers mid-year?
Yes, our admissions is a rolling process. We have many students who transfer in mid-year, but it is always based on availabe space in specific grades/classes.
Do you require fundraising or parent volunteer hours?
Yes, we have annual fundraisers that families are expected to participate in and we value all volunteer hours. 
Can students who aren't Catholic attend Saint Thomas More?
Yes, in the Jesuit tradition we welcome families of all backgrounds and faith traditions. Approximately 25% of our students are non-Catholic.
Do all of the current students live near the school?
No, we welcome students from the local neighborhood and throughout the metropolitan area.
Do you accept payment plans?
Yes, our financial management company has various payment schedules to choose from.
Do you have a discount for siblings?
Unfortunately, we do not discount siblings as the cost of tuition stays the same for us. 
Do we need to be members of the parish to attend the school?
No, we welcome all families. The cost of tuition is the same for parishioners and non-parishioners.
Do you require uniforms?
Yes, students in grades K-8 wear uniforms daily that can be purchased at Donald's Uniform. We also offer a uniform exchange for free, but sizes and options can be limited. Preschool students are not required to follow the uniform guidelines.
Financial Information
Invest in Your Child's Education
The total cost of educating a child at Saint Thomas More exceeds $8,000. We are able to keep the cost of education lower than this through the generosity of our parish and our development initiatives. These initiatives include sale of raffle tickets, the annual fund, and the auction. Not only do these events directly benefit our students, they engage parents and students as they build the St. Thomas More community.
Financial Aid
Saint Thomas More Catholic School offers need-based financial aid. Our financial aid comes in the form of grants; these grants never need to be repaid by you. We want to make our education available to every family who wants to come here and it is our privilege to offer financial assistance to make this a reality.
Families must apply for financial aid through TADS – our financial aid administrator. TADS reviews each application and forwards its financial analysis to us. The school then determines aid amounts based on TADS results and funds available in the school budget. Please note that this process takes several weeks.
Our financial aid program is a confidential process which involves only the principal and the business administrator. In some cases, the Canonical Administrator may also be consulted.
2023-2024 Tuition Rates
Kindergarten thru 8th grades tuition for the 2023-24 school year is $6,542.
Tuition may be paid on an annual, semi-annual, trimester, or monthly basis. If tuition is paid on a monthly basis, payments are due by the 5th of each month.
Preschool has different tuition rates based on the various programs available. Download the preschool program options and pricing sheet.