Enrichment Programs
We offer a wide variety of enrichment programs to educate the whole child.
Education at Saint Thomas More is not limited to the classroom or the hours of the school day. Our school maintains the personal feel of a community school while offering the personal growth opportunities for children often provided only by much larger schools.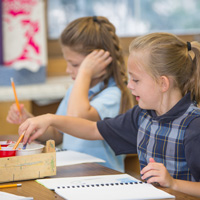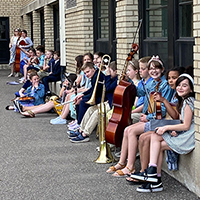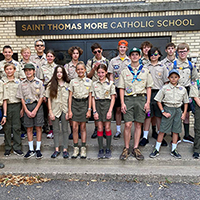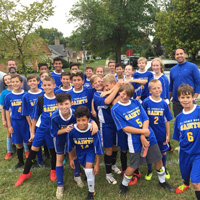 Extended Day: After School Care
Saint Thomas More offers safe, on-site after-school care. There are different extended day programs for Full Day Preschool and School Age Kids (K-4th). The after-school program operates from the end of the school day until 5:30 pm. Healthy snacks, supervised homework help, arts-n-crafts, and outside play are offered to all children. Additional programming is available on non-school days and in the summer. Please see all of our pricing and policies (pdf).
Flexible Summer Programming
Saint Thomas More offers offers a flex-enrollment option for preschool to school age children and families. Children can attend the STM Summer Program based on family scheduling, on specific trips or activities that are offered. Families are asked to preview a calendar a month at a time and select the dates that you want or need to spend the day.  No need to commit for the week, simply select those activities.  The summer schedule usually comes out in March.
Extracurriculars
Saint Thomas More offers a wide variety of activities and extracurriculars. There is something for everyone! Student participation in extracurriculars can encourages individual development by providing opportunities for leadership, sportsmanship, fellowship, teamwork, commitment to goal achievement, character building, communication skills, competition, and school pride.
Robotics Club
More Travel Week: 7th & 8th grade students visit Washington D.C. & Wolf Ridge Environmental Learning Center
Band & Orchestra
Choir
School Musical
Scouts
Girls on the Run
Soccer Shots
Young Rembrandts Art
Student Council and Student Service Team
Summit Saints Athletics
A variety of team sports offerings – more than other schools of similar size – are available during the fall, winter, and spring seasons. Teams compete against other teams in the St. Paul Catholic Athletic Association.
Fall
Volleyball: boys and girls in grades 5-8
Soccer: boys and girls in grades 5-8
Winter
Basketball: boys and girls in grades 5-8
Swim Team: boys and girls in grades K-8
Ski Club: boys and girls in grades 4-8
Spring
Baseball: boys and girls in grades 5-8
Softball: girls in grades 5-8
Track & Field: boys and girls in grades K-8